Vogue 8675
As many bloggers have already noted, the illustration for this pattern evokes a big "ho hum";  it looks like just another boring Vogue basic: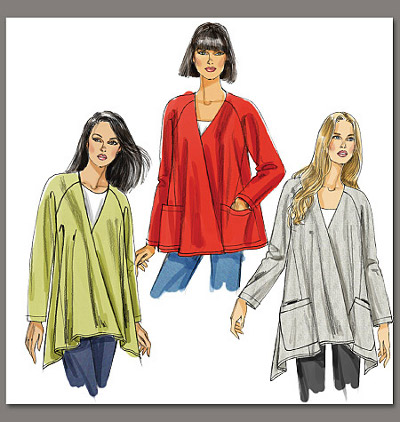 Then, a lot of us saw this photo, and took a second look: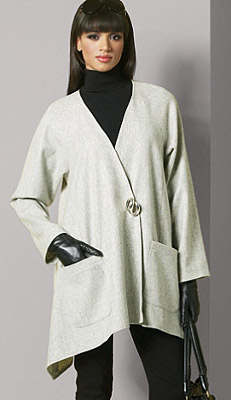 Much better, isn't it?  When I looked at the actual pattern, I loved the sleeve shaping, which follows the shoulder curve.  The side seams also provide some extra, flattering, shaping.  I saw this as my chance to make a jacket that offered some of the geometric edginess of a Marcy Tilton pattern, but without the boxy, unfriendly-to-humans shape that Tilton's jacket patterns almost always feature.
Did I get my wish?  Well, kind of: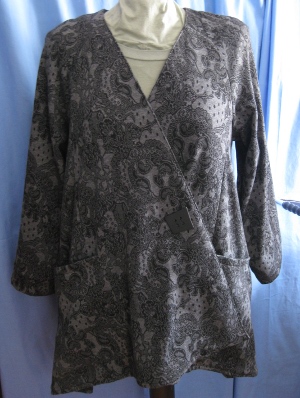 I originally made view B, the long version, with pockets.  Vogue says I'm a size 14, so I cut a size 10, which fit perfectly, except that view B was way, way too long for my 5'2.5″ height.  I was drowning in this thing!  (Vogue's sizing chart is a joke, but that's another post.)  I ended up cutting about 3 inches off the length — not quite enough to make it as short as view A, which looks awfully boxy in the line drawings.  My sleeves are also 4 cm shorter than Vogue's.
My pockets are larger than Vogue's — that might not have been the best choice, but since they're hardly visible in this print, it's not much of an issue.  I don't know why anyone uses a 5/8ths inch seam on patch pockets, but that's because I always line (and usually interface) mine.  Then I use a much smaller seam and turn the pocket.  This gives me better control on a curved edge, and a neater result.
I used a completely unnecessary Hong Kong seam finish because I just love it, and, since this jacket is unlined, I wanted to see more than a raw edge every time I wore it.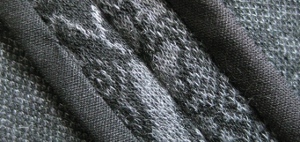 Because I was seduced by the photo of the coat closed with a pin, I added a jumbo button with an extra-large snap underneath, to give the effect of a pin without the fuss.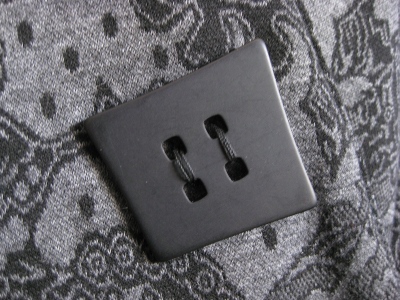 This was a "wearable muslin", so I used a stable knit that I had around.  (The pattern calls for a lightweight woven.)  I knew that if I didn't make another one, I'd still probably like using this on a plane, where I often want a blanket, but need to bring wear my own.  This could be a perfect "carry-on" coat/sweater.  Wearable on a trip, but cozy like a blanket on planes.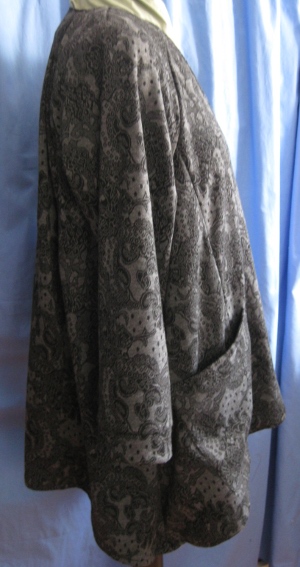 The knit actually worked very well, except that mitering the two angled corners at the hem was a bit iffy.  I think using a lighter woven would give a better drape, too, although this fabric actually falls nicely on my body.  The knit fronts cling a bit to each other, which turned out to be an asset when the jacket is closed; the under layer of a tighter woven would likely need some kind of anchor (a tie or snap or something of the sort) to keep it in place if the jacket were fastened closed.
Because I didn't want to do any hand-stitching on this project, I used this accessory foot to "stitch in the ditch" to attach the neck facing to the shoulder dart: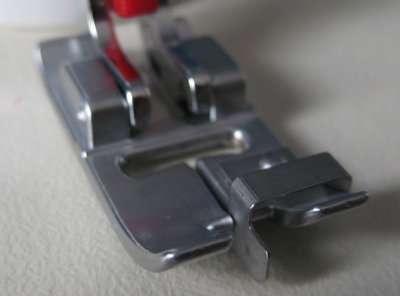 This is the first time I've used this foot, and it worked amazingly well.  The blade separates the sides of the seam just enough to hide the stitching perfectly.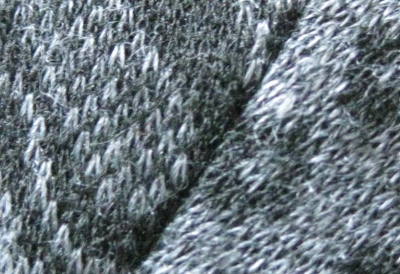 Vogue's directions were simple and clear; the pattern pieces look wonky, but go together perfectly.  Was it a success?  Well, I think so — I do get some of the geometric flair from the angled hem, and the cut of the jacket is much more flattering to a real human shape than that of most unfitted jackets.  But it's probably time for me to face the fact that over-sized garments, however well-cut, are just not flattering on someone of my size and height.  This jacket is perfect for tall, willowy Auntie Allyn.  It's merely OK on short, petite Noile.  Sigh.