Vogue 1192
So I'm spending this year getting fit, and I've decided that I'm tired of wearing boxy, over-sized clothes that look good in theory, but pretty awful on actual bodies.  Now I want clothes that are shaped like me, not like inhuman geometry.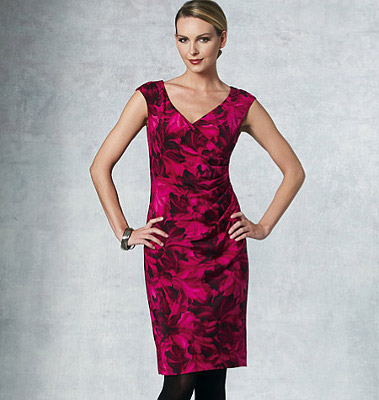 I began with Vogue 1192, an Anne Klein design.  I checked Vogue's size table, and this is what I discovered:   My measurements are 37-28-36.  Size 14 in Vogue is 36-28-38.  Pretty close, right?  I realized I might need to take in the hip, but, on the other hand, maybe not, as the dress looked a little slim.  The critical measurement was the bust, so I cut my  muslin in a 14, realizing that the bust might need some tweaking.  (This dress is the muslin; matters went no further.)
And whoa, Mama, did it need tweaking!  I whipped up the muslin, and it looked like a sack.  Everywhere — bust, waist, hips.  You could have wrapped me in several layers of cotton wool, and it still wouldn't have fit.
So I re-cut the sleeves and shoulder seams to a size 12.  Then I removed nearly 3 inches each from the waist and the bust!  Yep, the very same bust that was supposed to fit one an inch smaller than mine.   And that hip?  It lost two and a half inches, and there's still plenty of ease.
This fit, nicely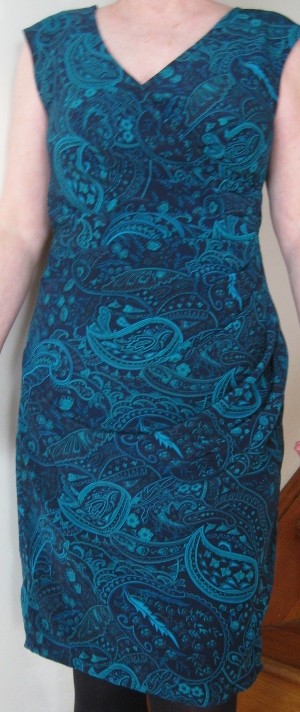 and still with plenty of ease.
I realize that the dress is supposed to be lined, but this amount of ease is absurd for lining, isn't it?  If I'd lined the dress, I still would have been swimming in the thing.
Not to mention that the size chart wasn't the only issue with this pattern.  There's something seriously strange about the left side bodice piece.  Part of the problem is the giant, one-size dart which is on the left bodice only.  One size, Vogue?  For women who wear Vogue sizes 8 to 14?  How on earth could all those busts get a proper fit with a one-size dart?
Not to mention that the complete lack of a taper leaves a cute, pointy little pocket.  If you're wearing a Jane Russell bra, this might work, but, in my case, I was grateful for the busy print, which makes the ohh-la-la point a little difficult to see: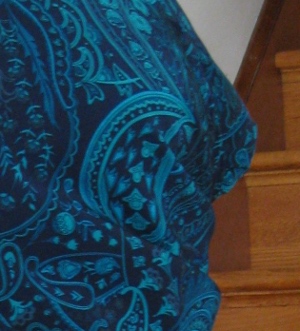 It's only on the left side; there's no dart on the right.  I couldn't help but notice that the woman modeling the dress on the pattern envelope has no bust at all.  This would make fitting simple, as long as you 1) ignored the dart or 2) buried it completely under the pleats, and just hoped for the best.
The other part of the problem has to do with the cut of the left bodice.  It floats strangely; if I'd lined the dress, I would have had to anchor it to the lining.  It's boxy where the dress, and  my body, aren't.
The right crossover goes across the fullest part of my breast (if the Vogue's model had one, it would go right across hers, too); and the left cross-under bunches weirdly under the bust.  In order to keep the bodice smooth, I had to tack the two layers together at the center front neckline.  It's a fakeout, though, not a real solution.  I was waaaay too sick of this dress to even consider re-drafting the left bodice.
I added two small darts at the back neckline, but that probably wasn't a Vogue problem — I may be a little round-shouldered.  A lifetime of wearing knits may have successfully obscured this.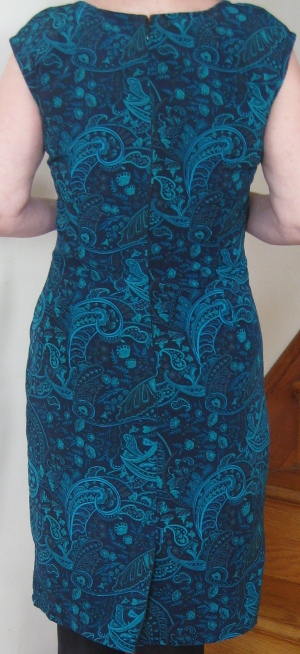 The pleat actually falls nicely; I'm standing with my left leg forward for some reason.  Art?  Perhaps.  Also, I haven't hemmed the skirt yet, and probably  never will (it's just basted here).  Enough, already, with this dress.
There's another little bit of deception on the pattern envelope:  The hem appears to fall mid-knee on the model.  I'm going to go out on a limb here, and guess that the model is not 5 feet, 3 inches tall; they never are.  This dress, cut in Vogue's size 14, goes to my mid-knee.  Unhemmed.  I claim I'm 5-foot-3, but it's not really true.  I'm 5 feet, 2.5 inches on a good day, which, you'll understand, this wasn't.  The size 14 length  hits just above mid-knee on me, and that's with a 3/4ths inch hem!
Also, can anyone explain why there are different cutting lines for the front hem in all size versions, but only one cutting line for the back hem?   Is there a reason why you'd cut the front to a size 8 length, but then attach it to a size 14 length back?  Just asking, because, d'oh, that just makes no sense at all.
Auntie Allyn made this dress in a knit; the pattern calls for woven yardage.  Allyn's version worked very well for her; maybe using a knit is part of the secret.  Hers looks fantastic; she didn't line it either, and just finished the edges by turning and stitching.  I used bias tape to finish the neck and armholes on my woven fabric; it was quick and clean.
Pattern:  FAIL
Dress:  It's just kind of meh.  I thought it would be a more chic version of the ubiquitous wrap dress, but it's just kind of neither here nor there.  I will never, ever make it again.  Kludgey fixes do not make for good repeat projects.  And Vogue?  Favorite pattern-maker of my youth?  I'm not loving you so much these days.