Simplicity 5502 – Chevrons
This is about a 45 minute top — there's nothing to it really, so whipping one up is really no problem.  I love stripes, though, and that makes all the difference.  Twenty minutes to sew, and a lifetime to match the stripes: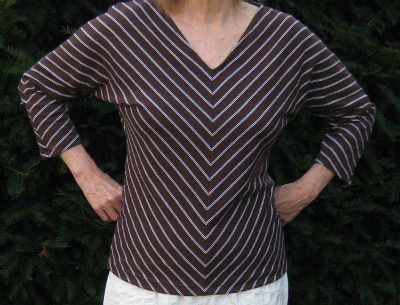 I weigh 121 pounds in these pictures, but I look like a linebacker.  Let this be a lesson to you:  Stripes are not your friend.  I don't care, though, because I love the thrill of matching them up.  I cut a size 12, which Simplicity calls a 34 bust.  Right.  Mine is 37, and I've got plenty of room in this top.  What is wrong with these people?
See those folds next to my bust?  That's where darts should be.  Or at least, it's where you'd put a dart if the sleeve weren't a dolman.  But, gee, it's a tee-shirt!  Who wants structure in a tee-shirt?  (The next knit shirt I make is going to have darts, though.  I need to know if I can live with a dart-fitted tee.  And find out if a fitted tee is actually a good idea. )
I made view F, with longer sleeves and the v-neck: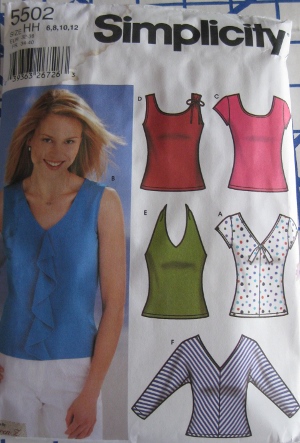 Here's the back, also not flattering and in need of some serious swayback help:
This is just a knock-around tee, so I'm not too concerned about these issues.  It's comfortable, and easy to wear.  The sleeves are cut all-in-one with the bodice (there are just two pattern pieces), and that's not really a slimming look, either, especially if, like me, you're a little bustier than your size would suggest.
The sleeves are perfect on me, which means that they  may be a little on the short side for someone with longer arms.  The pattern envelope doesn't say that they are 3/4ths length, but I'll bet that's what they are on a taller woman.  I suspect that Simplicity skimped because this diagonal design uses a lot of fabric; longer sleeves might mean a more contorted cutting layout.  It's odd that they don't mention that the sleeves are short though.
The instructions have you just turn and stitch the raw edges.  That's what I did for the hem and sleeves, but I bound the neckline with bias tape to stabilize it and give it a nicer finish.  I really prefer to make a facing on a v-neck top like this; if I make it again, I'll draft one and do that instead.  I added two inches to the hem; that's great for tucking it in, but it's really more than I needed.  An inch would have been fine.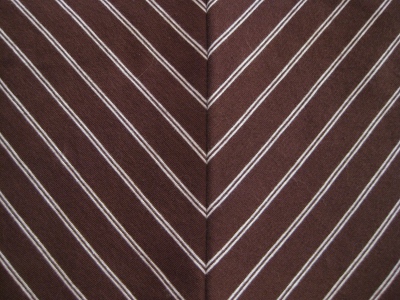 The chevrons turned out well.  I matched them everywhere — center front and back; side seams; and shoulder/sleeve seams.  I love this stuff.  It makes my geeky heart sing.
I've documented my frustrations with knit hems before, but this time I tried something new I read about somewhere.  (Can't remember where, unfortunately.)  I used wooly nylon in the bobbin, winding it loosely and gently by hand.  Then I did the topstitching with a double needle.  The result was smooth and beautiful, inside and out.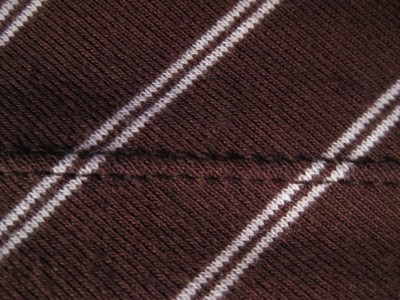 Matching stripes isn't difficult at all; it just takes care and patience.  The trick is to cut each garment piece as precisely as possible.  There are several ways to do this.  It's important to cut each piece individually, making sure that each obvious line matches up with its mate on the seamline.  It's not actually the edge that you care about; it's where the seam falls that matters.
When I sewed with plaids, I'd actually draw the major lines of the plaid onto the pattern pieces so that I could match them perfectly when I reversed the tissue pattern to cut a corresponding left, right, front or back piece.  Stripes are easier.  You can draw them, too, on your pattern tissue, but another, faster method, is simply to turn your cut piece over with the tissue still attached, align the stripes perfectly, and then cut the second piece out.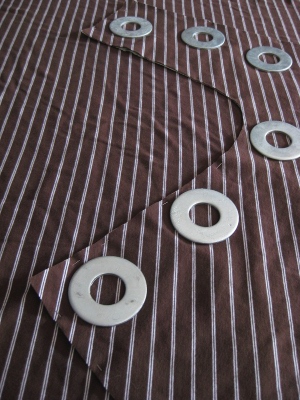 I'm a killer at pin basting; I hate to baste anything with thread, and over the years I've become very proficient at using pins to hold my unsewn garment together under the needle.  But for perfect alignment, I pin stripes first, and then baste.  When the margins are so small, you really don't want a stray pin shifting even a thread or two as you sew.
I think Mr. Noile isn't a big fan of this one.  When I took it in to show him, he rolled his eyes and said it reminded him of this: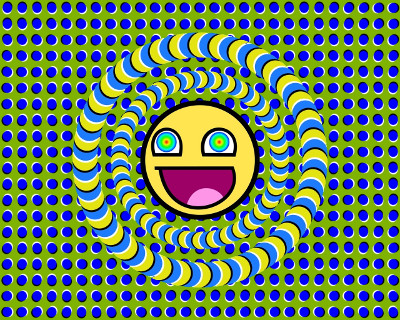 Then he beckoned me to step closer to the screen, so that I could fully experience instant vertigo.  I think he's trying to tell me something.
Image source: http://i.imgur.com/0bXCJ.jpg  (If anyone knows the original source, please let me know.)
Dorothy, in the comments below, suggests that this may be from this link (see "Impossible-figure rotating snakes 2" and prepare for extreme eye agony if you follow the link!)