Vogue 8323 – Scoop-Neck Top
I'd made the cowl version of this shirt previously and really liked it. Opportunities to wear it aren't frequent, though, since the cowl is really exaggerated — fun, but not too practical for every day. I love the lines of this shirt, though, so I decided to make the scoop neck version.
Putting this one together couldn't be simpler (or faster!). It's got princess seams front and back, sleeves, and that's about it. And a nice, trim look when you're done: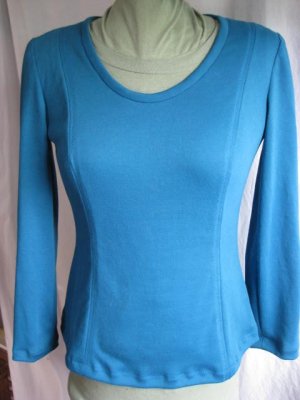 My hem doesn't look all that great though. I used an adhesive, iron-on tape to support it and keep it from stretching, but the results aren't exactly what I want (though the look did improve with washing — after this photo was taken — for unknown reasons).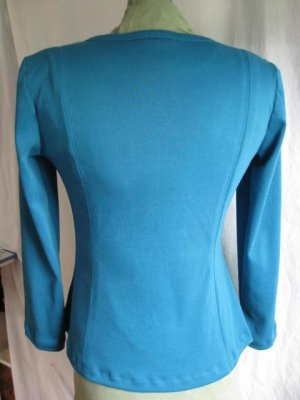 Love those lines! This is one of those maligned, widely-available cotton knits (I've got a lot in my stash for some reason), but they sew up beautifully — except for that hem problem. I need to do more work on this.
I'm getting very fond of this particular utility stitch on my Pfaff. I love the way it finishes the seams, and keeps them smooth — much nicer than the little ridge trimming the seam leaves: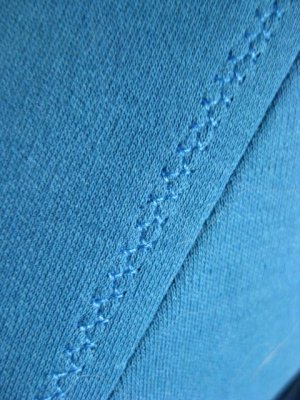 Vogue has you finish the neck using bias tape, trimming the seam allowance, and turning the tape to the inside. Instead, I finished the neckline using a self-fabric band, turning it once over the seam allowance, and then "stitching in the ditch". It worked really well, and gave a clean, neat look to the neckline: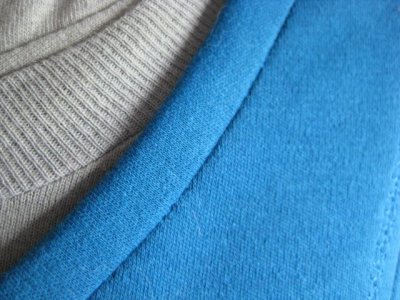 That made my neckline 5/8ths of an inch higher than Vogue's, of course, but it's just right on me.
This top is a great alternative to the sloppy tee we're all tempted to wear around the house. It's super comfortable, easy to wear and care for, and so good looking! Even better, it whips up in no time at all. I'm sure I'll be making more of these.