Make a Cloth Crinkle Book
Stinkhead has posted a video showing how to make a baby's cloth crinkle book using a free pdf, also available at the link. Well, it's actually a crinkle newspaper, but close enough.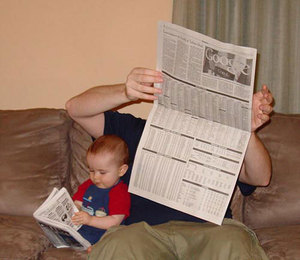 We'll ignore Stinkhead's assumption that only Daddy reads the newspaper, especially since both Daddy and Mommy get their news on the Internet these days. Also, because, although he figures only Mommies will sew the book, he actually does it himself in the video. Be that all as it may, this is one cool project, and Stinkhead's graphics are way much cooler than the New York Times'.
Via Daddytypes