Vogue 8499 – The Skirt, In Black
Final piece for Mini-Wardrobe, 2008 — and it's still an hour and forty-five minutes to the deadline! Whew.
I have a fantasy about this skirt. It's constructed with long, narrow pockets attached to the side panels. I want to go to an artisan bakery, pick up a couple of incredible baguettes, and bring them home in these pockets. Or maybe put a baguette in one pocket, and a couple of smaller chunks of cheese in the other. This is a garment that seems perfectly suited to my favorite portable meal.
When my spouse saw these pockets on my muslin, he suggested sewing smaller pockets inside the large ones. I thought that was a brilliant suggestion, so that's exactly what I did this time around. I love a little hidden, subversive flash, so I chose a cotton print for the secret pockets. Here's how they looked as I assembled them: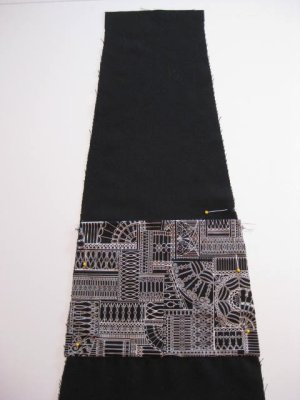 I cut them to fit the side panels, added a small pleat in the middle, hemmed the top edge, and double-stitched the bottom edge before folding them up. Now I've got functional pockets inside the funky large ones.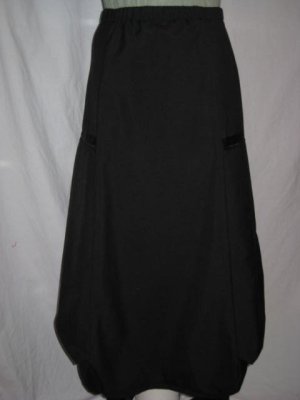 Otherwise, the skirt is pretty much as suggested by Vogue, except that I shortened it by two inches, and used strips of grosgrain ribbon along the top edges of the zippers. The pattern calls for leaving them 'raw', but that's not a look I fancy. At least not with ordinary zippers.
This is the final piece for my entries in PR's Mini-Wardrobe Contest. Talk about a photo finish! Now, I've got to get the last two reviews onto PR, and get my pictures into the gallery.