Vogue 7280 Reversible Skirt
This is one of a series of posts I wrote for a previous website.
I got inspired after re-reading and reviewing Kate Mathews' "Sewing a Travel Wardrobe" recently, and wanted to make a reversible outfit. I decided to start out with the skirt — how hard could it be? — and to use Vogue 7280, a terrific pattern with three skirts to chose from. Naturally, to make it reversible, I devised a fourth skirt, but never mind . . . it's still one terrific pattern.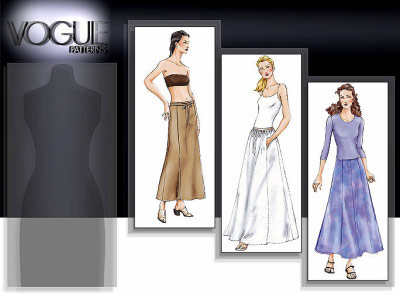 My fabric stash includes 10 yards each of a bright dark raspberry and a bright royal blue polyester. I'm guessing it's meant to be a crepe de chine. I bought this fabric just to play with (the colors are fabulous!), but never intending to wear it — at 50 cents or so a yard, I could do a lot of playing without any risk.
I began with view C, which is an eight-gore skirt, no waistband, sitting below the waist, closed with a rear zipper. Because I had no intention of putting a zipper into a reversible skirt, I cut the pattern in a size 12, a size larger than I would normally make. I didn't make any hip adjustment, because I intended that my skirt would ride a little higher, since I didn't want to fuss with an elastic band anywhere my body isn't naturally smaller. (I wanted that band to hug me gently without slipping or needing constant adjustment.)
This isn't a fabric I'd normally voluntarily wear, but now that my skirt's made, I might. In a single layer, it floats like a dream, and it's still pretty floaty in two layers. . .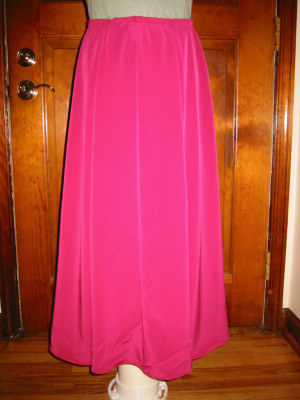 Making up was very straightforward — cut it out, sew the gores. I made both skirts, then joined them at the waist, right side to right side. Then I edge stitched the top — I'm not crazy about the way this looks, but it was the best way to keep one color from rolling to another.
Next step was fitting the elastic. I joined the elastic ends by abutting them, and then placing a small piece of the fabric across the join. I zigzagged over the join and the fabric, then trimmed to make a very flat joint — perfect where I didn't want any additional elastic bulk.
Then I slipped the elastic between the two skirts, into the pocket formed against the waistband on the wrong sides of the skirts. I pin-basted all around the waist right under the elastic, and then stitched the casing with the elastic already in place, removing the pins carefully as I came to each one. Perfect! I was thrilled — nearly done, and it had taken no time at all. How hard could it be?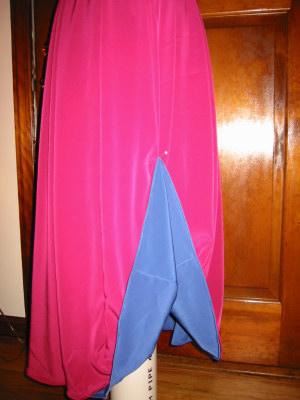 Uhhh . . . the "hard" I had conveniently forgotten about was, of course, the issue of hemming two high contrast fabrics in a skirt when you don't want to see either color from the opposite side. This skirt's gores are cut on the grain, so it's not as if I had a bias problem, but, nonetheless, there were a few minor issues to deal with to adjust the lengths so that I didn't get the dreaded peek-a-boo effect. An eighth of an inch here, a quarter inch there solved the problem, but not without a lot of fingernail biting. I probably failed to treat this polyester with the respect I would have given silk — I pinned instead of using weights, for instance, which was not, in retrospect, a good idea.
The only other alteration I made was in the length, which I shortened to accommodate my height. And I just serged the lower edge, turned and topstitched for the hem. I wanted to eliminate the frustration of doing a curved hem with the poly, and also keep the weight of the hem to a minimum.
It's a terrific skirt, and feels wonderful to wear. However, next time I'll make my reversible with a couple of changes:
* I might actually use polyester again (great travelability), but I think I'd make both layers of chiffon, so the skirt would still feel more "floaty" with two layers
* Next time I'll use consonant prints, or a print and a solid, so that contrast issues won't be such a big deal.
* I'll probably try to chose two prints that look very, very different from each other, so the skirt will have two characters. I bought a wonderful reversible skirt from Coldwater Creek several years ago which remains the acme of this style (in my mind at least) — the two side have two very different moods — one multicolor floral, one two color abstract
I did add one extra feature. Before joining the two skirts, I serged two 4 inch by 5 inch pieces of the fabric together, attaching about a 9 inch string to each corner to make a floating pocket. I attached this to the right side of the top of the waist of the raspberry skirt, and then went ahead and seamed the waist.
This very light pocket "floats" and is worn on the inside of the skirt, but can be pulled to the outside. It's a security pocket for passport, and extra 20 dollar bill, or whatever. I closed mine with tiny nylon snaps, but a light-weight zipper would work fine, too. I don't notice it inside the skirt, but it's handy to have when travelling. It also tells me where the front of the skirt is!
It looks as if I didn't pull the pocket completely out when taking the picture. The strings are actually a little longer.
My guess about the size was just right — the skirt gathers a bit at the waist, to allow for the elastic, but the rest of the skirt just skims across me — no bulky waist/hip gathers as with most elastic-waisted skirts. These colors are far more vibrant than my usual choices . . . but I love this skirt! I may have inadvertently tuned into a wild, suppressed side. This could be the start of something fun!
I've planned a reversible top, but am having trouble overcoming my fear of wearing two layers of this kind of poly next to my skin. Still, the skirt cries out for the same flamboyant colors in a top, for mix and match.