Butterick 4790 Vintage Dress
I love bias binding. Yes, it's nuts, but it's true; I've always loved applying it and finishing off raw edges so neatly. You can see that this pattern's appeal to me is obvious. And then there's the construction — so flat! Just wrap around, close one clasp, button the front and off you go. This pattern is one of Butterick's vintage collection. 1952, here I come!
Well, maybe not quite 1952 — the wacky print I chose is strictly modern, especially since it's enhanced with my favorite ingredient: spandex. Love that stretch! As for the black trim? What can I say? I was going for drama.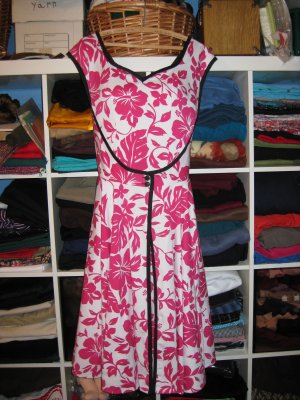 The pattern's great, truly easy-to-sew, and the dress makes up quickly. I loved it from the start, but my spouse didn't. He pointed out that the neckline wasn't really becoming on me. He was right. That's not a neckline that looks good on everyone. It took several months before I decided what to do about it, and my decision was radical. I took the sweetheart neckline from this pattern: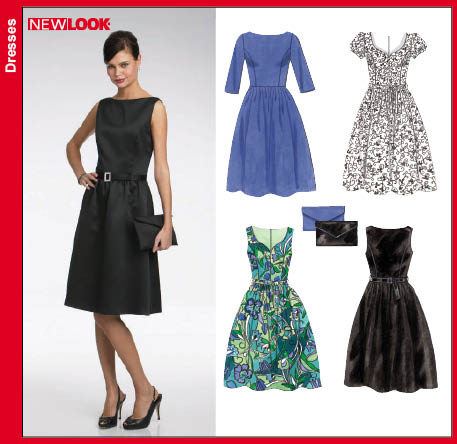 and re-cut the front of my dress.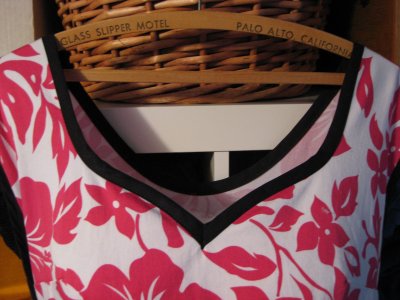 The result's pretty nice, I think, and much more becoming on me.
I changed three other things as well: Instead of letting the wrap-around tabs meet end-to-end in the middle front, I overlapped them. I used two larger buttons instead of the three suggested.
Since I noticed that the under-sheath (the nearly-hidden front of the dress) tended to ride up when I wore the dress, I sewed the buttons to the bodice, and made buttonholes in both sides of the overlapping tabs on the skirt. This keeps everything in place nicely.
One last note: I made a narrow hem, faced with bias tape. I much prefer this type of hem when the skirt is this full and the fabric has some substance.
(The New Look pattern is 6723.)
Update 18 July 2008:  Vera, a reader from Portugal asked if I could provide more information about the way the dress is constructed.  Here's the line drawing from the back of the pattern envelope: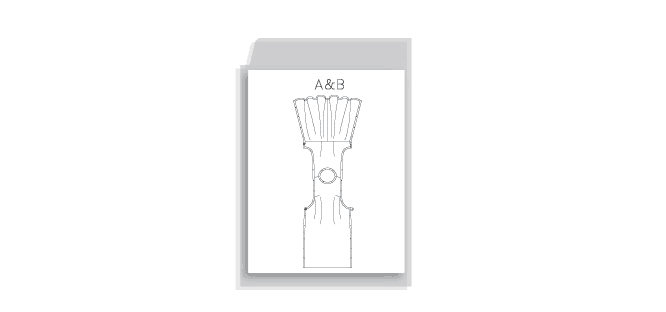 The dress is made just like a sheath in front, with a slim, straight skirt.  This slim front skirt wraps around to the back and fastens at the center back waist. It ends up under the back skirt, which wraps over it.
The skirt that is attached to the back isn't gathered — it's almost a circle skirt.  This back piece wraps around to the front, over the sheath, and fastens at the center front waist.
I hope this helps, Vera, and I apologize for the delay in responding.  This has turned out to be an event-filled summer here, and I'm way behind on Noile dot Net and about a hundred other things, too.