Rolled Hem Foot
To hem my cycling vest, I used a rolled hem foot for the first time.  I used to love the  Kleibacker finish, which involved running a line of stitching incredibly close to the edge of filmy fabric, trimming it, and turning it again. That method makes a very light, beautiful hem.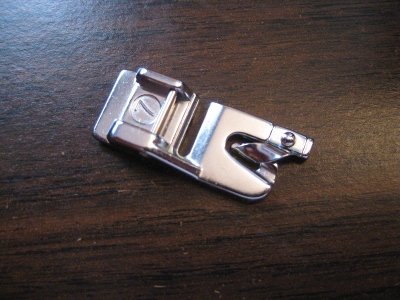 But I have several damaged fingers, and can't do things like that anymore.  Of course my rolling hem foot doesn't do produce exactly the same result as the Kleibacker method, but it is a great take on it, and the foot is extremely easy to use.  You just guide the fabric into the front of the foot  (practice first — I did!), and it does the rest.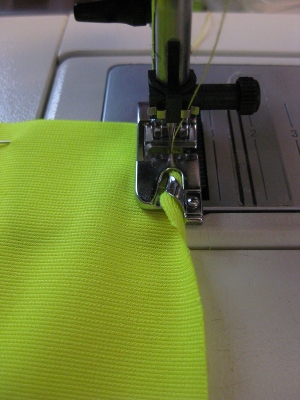 You'll need to keep the tension fairly even on the fabric in front of the foot, and in back, but that's easy enough to do, with just a light touch at the back.  Do hold onto the threads when you begin, and pull gently backward as you begin to stitch.  The result is very nice::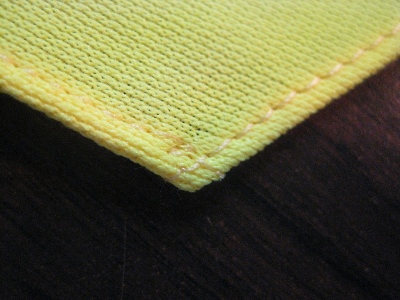 Corners are tricky, and they may not be perfect unless you practice a lot.  I did the long edges of the ties on my vest first, cut the threads, and then did the short ends.  It's trickier feeding the hemmed edges through the foot; I had some trouble, and one of my ties has a fairly messy corner as a result.  I just kept reminding myself that it's a utility vest, but for my next project, I'll probably demand better results.
The foot here is a 2mm foot; it's strictly for the thinnest fabric; this very light poly knit, or a chiffon, silk, or things of that ilk.  They're available in various sizes — I have a 3mm that I haven't used yet, for example, and it looks as if it can handle a slightly thicker fabric, and will make a slightly wider hem.
Related:  Sailor Cycling