IKEA Sewing Machine
May has turned out to be a heavy-duty travel month Chez Noile. Some was planned, some not, and some is not yet finished.  Whew!  I'm just surfacing for a moment because of an unexpected discovery; otherwise, it will be the second week in June before I'm back to posting again.
We've been hearing for a long time that IKEA was going to offer a sewing machine in the USA, and a machine has finally arrived.  The website says that it will only be around as long as supplies last — that's kind of how IKEA works — but this cute little device is now in stock for only $59 (USD).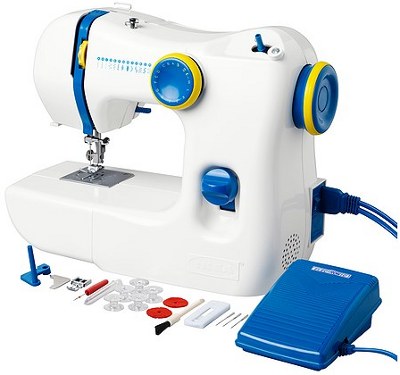 No one who shops at IKEA is likely to believe this is a precision machine, but there might be some valid uses for it, including teaching kids to sew, or as a basic travel machine, for example.   A blogger called icatbag has a rather thorough review; scroll down, as the first part of the post has to do with what IKEA does to our brains when we walk in the door.
The machine is called Sy — actually, all IKEA's sewing notions are called Sy, so that's perhaps no surprise. Patient searching on the Internet will reveal a number of other comments by happy users; again, this is not a precision machine, but within its limits, it seems to be a perfectly adequate machine.
I've seen one in person, and can report that it seems surprisingly solid.  The reverse lever is a perfect size for use by children, and has a positive spring return.  (Adults will find it quite satisfactory, too.)  Removing the sliding accessory box reveals a free-arm bed (pretty cool, no?), though removing the box requires some dexterity, and, as icatbag notes, you'll need to keep the accessories in the plastic bag they came in, since otherwise they will spill when the box is removed.
In a departure from IKEA tradition, the manual is written — yes, words and pictures!  Even more surprisingly, it seems to be quite complete, so operating this little machine shouldn't prove at all mysterious.