Burda "Polo" #121 09/2010
I've been dying to make the "trench jacket" from Burda's 04/2008 issue since I first saw it on Cidell's blog.  After snagging that issue in Hungary, I was all gung-ho until it occurred to me that I'd never made a pattern from a Burda periodical, much less one written in Hungarian.  (I have traced patterns before, and made things from Japanese pattern books, but let's just say that Japanese is a lot easier than Hungarian.  Truly.)
Then I saw Dawn's post about the "polo" #121 from BurdaStyle's 09/2010 issue.  Bingo!  I love this top:  It's got only three pattern pieces, and it's so simple that directions are essentially irrelevant.  Here's one Burda version, from their site: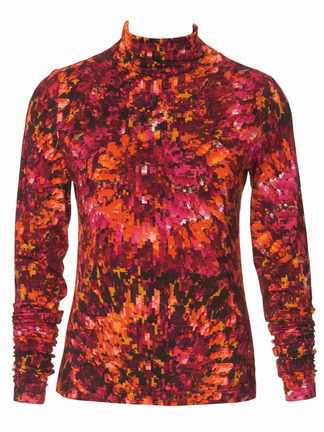 There's a 121a version and a 121b version.  I' not sure what the difference is; the technical drawing in the magazine suggests it's the length of the body, but on Burda's website the lengths for the two versions look the same.  That's probably another little detail I missed because of the language issue.  Such things aside, this top is incredibly easy and fast to make — perfect for starting out.
I ended up making three: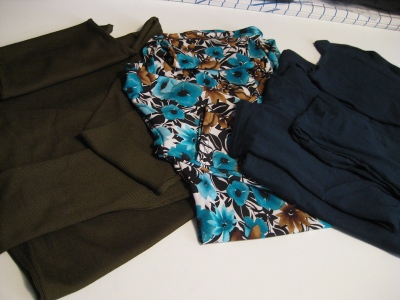 The green one on the left is JoMar mystery fabric (could it really be nylon?? nobody makes knits from nylon any  more, do they?) that I got specifically for knit "muslins".  The print is a super-over priced JoAnn poly-spandex knit bought at 50% off, and the teal is a JoAnn rayon/spandex, similarly over-priced, and also bought at 50% off — but this fabric drapes very nicely and is a dream to wear.
I cut a Burda 40 at the bust (and below, because it just didn't matter in this style), but a 38 in the shoulders.  Now that I've worn these tops, I realize they're a little too blousy in the body., so I'll tweak that for the next batch.  And I may need a 36 in the shoulders.  Live and learn.
The sleeves are super-long, as Karen notes, but, as you can see in the technical drawing, it's intentional. They're meant to be scrunched up.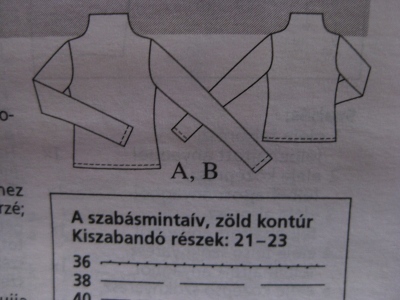 I like that look — they're still slim-fitting, but a little more interesting than plain sleeves.  Karen commented on the Burda instructions for turning the collar under — I couldn't quite figure out what she meant, but I decided to simply hem the collar edges, and wear it scrunched, too.  In these soft fabrics, it feels nice, and I like the way wearing it scrunched echoes the sleeves.
I've only got one picture of this shirt on my body so far.  My photographer, Mr. Noile, appeared to become ill while regarding this particular version, and muttered something about "granny print" and "singularly ill-advised".  I may add other photos later, but feared to tax my beloved further today.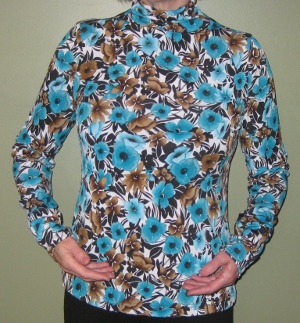 I had a LOT of trouble with this fabric, and never found a needle that liked it, though my collection is extensive.  And it's got the usual JoAnn issue:  every puncture mark leaves a little white hole, presumably because the dye-job is too inadequate (or too cheap) to survive even the mildest needle-tampering.  Love the colors, though, except the white.
I'll be sending this one to the charity shop, as I think it unlikely that I'll be able to wear it in peace in the future.  I do hate to see  Mr. Noile suffer!  (The photo's a little bleary; perhaps that's what caused Mr. N's nausea?) Swapped the photo out for a less-blurry one; Mr. Noile is not appeased.  The fit of this version is best through the shoulders; maybe because this fabric stretches hardly at all?
Here's the JoMar ribby-knit: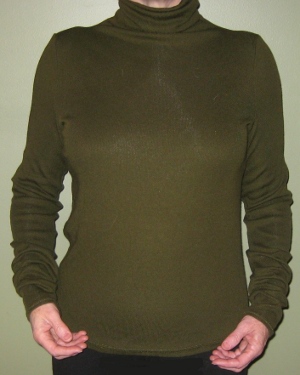 Love the sheen from the flash.  This is a really stretchy knit; you get the full effect in the scrunchy sleeves.
I need styling help, don't I?  Can you tell how much I'm into the construction, not the fashion?  As if to prove the point, here's the teal version: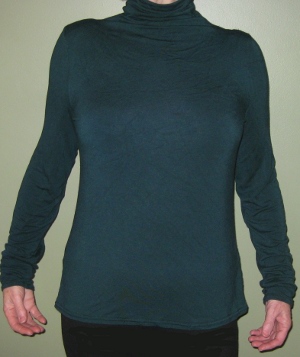 The shoulders are waaay too wide on this one; this soft, drapey knit probably  needed stabilizing alaong the shoulder seams.  And this is the fabric that called for a more body-fitting silhouette; the trunk kind of just hangs.  I only wear it tucked in , so it probably doesn't matter, but I'll fix this in future iterations.
It was a great idea to start my Burda life with this pattern.  I've gone through the steps now, I know what to expect all along the way, and I've got a good idea of how Burda fit will work for me (at least sometimes) in knits.  I'm taking another trip soon, but when I return I'll be tackling that vest.  I can't wait.  In the meantime, I'll be taking these three tops with me on this most recent trip — it was a quick and easy job to whip them up in the week between Budapest and the next (domestic) excursion.
Dawn also posted about this pattern here, and mentioned Karen's post so I checked it out, too.  And Cidell's made one now, too.  I think Burda has a hit on their hands.