Felted Wool Tunic/Vest
Thanks to Shams, I've been introduced to the wonderful world of Fawbush's, where I saw this marvelous vest from Angel: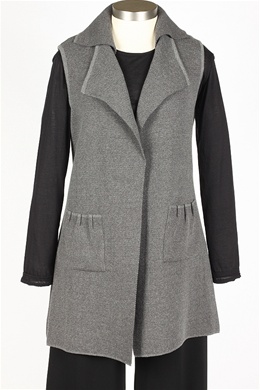 Here's the description:
Since 1985 Angel has been providing customers with unique, fashionable, high quality womens apparel. Their garments are produced in Turkey using the finest Italian yarns. We love the drape and classic styling of this versatile piece. It features a no closure front, a double collar and embellished pockets.
Nice! — but this is knit, and I wanted something woven.  And I'm not nuts about that upper collar; it's just not a look I'm wild about.  Clearly, I needed to make my own.
What material to use?  Felted wool seemed like the best answer, as I wanted to keep the vest as simple as possible, and didn't want to mess with wither the weight or angst of facings.  I decided to make a muslin of regular old felt, just to get a feel for sizing, etc., so I trotted down to the local "fabric" store and bought the only felt yardage they had — made from recycled soda bottles (and boy, could you tell!).  Here's what I worked up: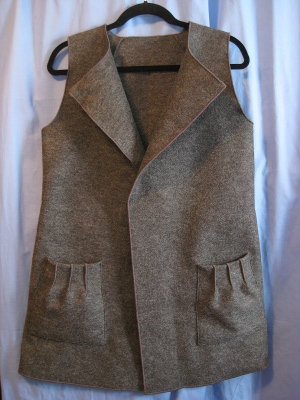 I really liked the look of this!  I finished all the edges in woolly nylon, and my only regret was that I'd made it in such an awful fabric.  Since I was about to leave on a long trip, I began to dream about how nice it might be to wrap up in a boiled wool vest on a chilly plane .  .  . but I had only a day or two before the trip, and no time to find nice wool, boiled or not.
There's an overstock store near us, though, and through energetic ferreting, I was able to find two 100% wool throws for a pittance.  I tossed them into the washing machine and dryer, several times over, and ended up with enough wool to replicate my vest in something with a much nicer hand: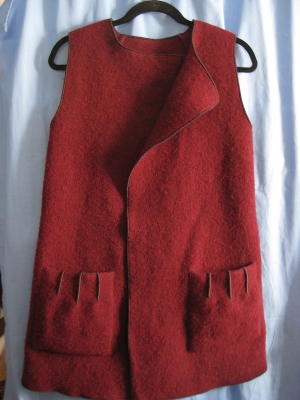 I didn't, and don't, like this version as much, though.  The fabric was thicker, so that the pocket shape isn't as pronounced (the stitching doesn't take up enough of the fabric, so the pockets are larger, less rectangular, and "poufier").  Of course, I couldn't match the burgundy in woolly nylon, so I had to use a pewter/black instead — it's OK, but not as nice as I'd like.
This version needed something:  some kind of closure.  I showed it to Mr. Noile and was debating the various options.  I was leaning toward magnets, but debating how I'd keep the stitches from showing on the "right" side.  A non-functional button, sewn over the magnet,seemed to be the right answer.
Mr. Noile looked thoughtful for a moment, and then suggested attaching magnets directly to the button(s).  He pointed out that this would let me change the button configuration any time I pleased.  Brilliant!
So I got out the hot glue gun and attached magnets to buttons, resulting in this, the smock vest: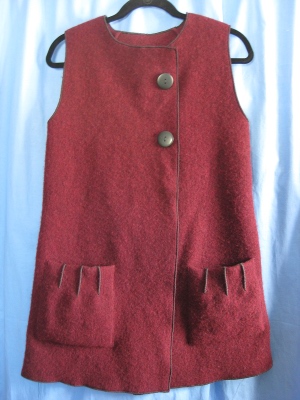 and this, the one-button close: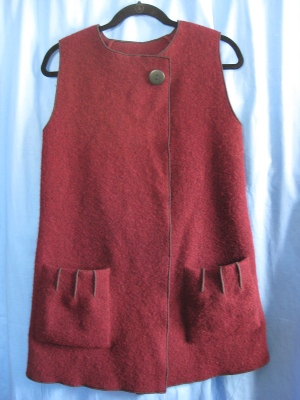 and this, the loden version: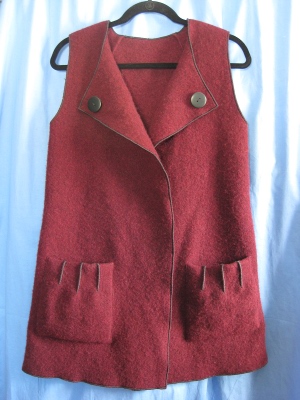 and this, the two-button-with-collar styling:
and this, the pocket variation: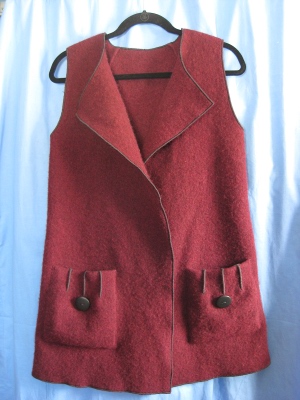 This was all very well and good (and a lot of fun!), but overall this project was not a success.  First, because this kind of vest is not best suited to a small person with a large bust, and secondly because somehow that lovely burgundy boiled wool just looks a little becky-home-ecky compared to the more sophisticated-seeming gray flat felt.  I really, really prefer my gray felt version, but the fabric's just too awful to wear.  Sad.
Not to mention that woolly nylon was not the right edging.  It snags and pulls on everything.  Though I should note that the boiled wool itself is heavenly to wear; it's both warm and light, and feels incredibly natural on the torso!
Neither version really captures the longer, leaner look of the original (or the better drape!), and, in the end, I've got something quite different.  After all, that's what "inspiration" is all about, rather than "copying"; I love the way this morphed into something else.  This exercise was a lot of fun, and I'll have to continue to experiment like this in the future.
I made a tiny pocket hidden in the large pockets to hold the buttons when they're not in use.  That was a good move, and would have been especially useful if I'd actually worn it on a plane.  Which I didn't, because anything I take on a plane has to have many uses over the course of the trip.  A long vest just wasn't minimalist enough for me in the end.  But it was a lot of fun playing with the idea!