Vogue 7997: The Real Thing
I recently made a "muslin" of this top, which you can read about here.  (When you click, the new post will look the same, but if you scroll down, you'll see it's not.)  This post is about the "real" top, which is based on Vogue 7997: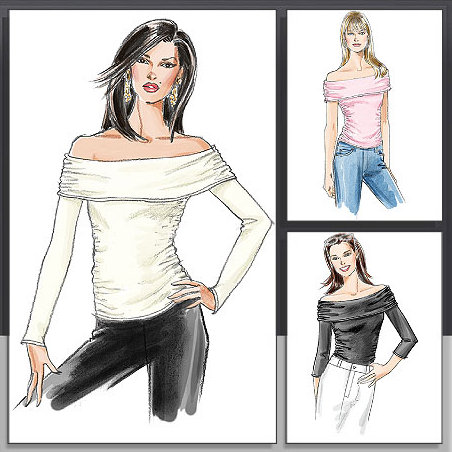 Vogue uses elastic to gather the sides of both the shirt body and the collar, but I eliminated that step.  I wanted to be able to bunch up or stretch the body length according to my mood, and using elastic in the cowl sides would have prevented me from using my modifications as I planned to.  Here's my finished shirt, in a cotton/lycra blend, with my (modified) collar arranged a little differently from Vogue's illustration: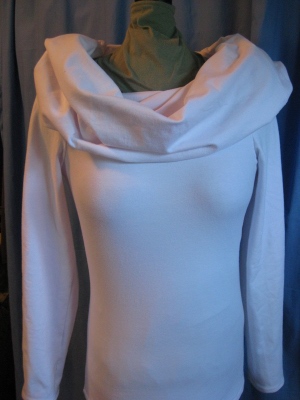 Along with eliminating the elastic, I made a few other modificationa.  To recap a bit from my previous post, what I wanted was a top similar to this one (below), made by Coutourwear (more information about it on that earlier post):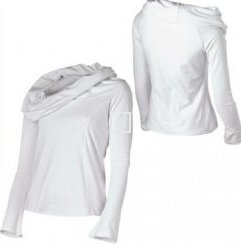 I altered the Vogue collar, making it 16 inches longer than the one in the pattern, which lets me wear it in a bunch of different ways, including as a hoodie.  Here are a couple of neckline variations: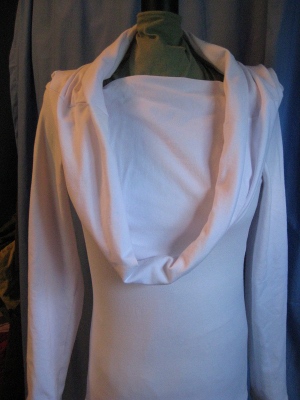 With the cowl crumpled, up almost like a wide, scrunchy turtleneck:
And the hoodie version (it's a little surreal; my duct tape dummy doesn't have a head, so I improvised):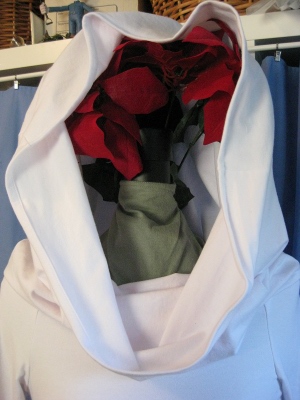 My version can also be worn completely off the shoulder, just like the Vogue pattern, but apparently I failed to photograph it that way.  (There's a good picture of how it looks on that earlier post, though, in sage green.  Link below and in the text above.)  I may add a photo of it arranged later, but wrestling this skinny, stretchy top onto my dummy is no small job.
The biggest change I made to the pattern, other than the collar?  I added straps: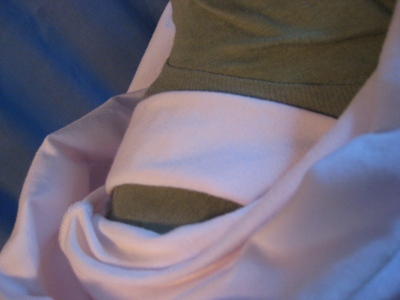 I love the bare-shoulder look, but I'm not a slight adorable 22-year-old ingénue, and no way I am suffering through wearing a strapless bra under a soft, comfy shirt.  The visible bra straps had to go.
I also added thumb openings to the extra-long sleeves.  These little "catches" are featured on a lot of contemporary sports/hiking/travel wear.  The thumb openings keep the sleeves in place over my hands in cool weather: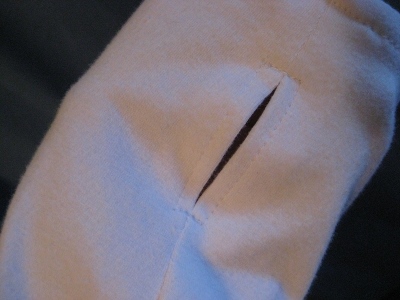 I don't know if the Contourwear top has these; there's no detail about it at all on the site.    (I've got a microfleece zip hoodie from another company that has them.)  I thought they were silly when I bought the fleece — wouldn't I just use gloves?  But, to my surprise, I often pull the sleeves down over my hands in weather that's a little too warm for gloves, but too cold for bare hands. They're perfect for a top that can go from bare-shouldered to fully covered in ten seconds.
The sleeves on my version can be scrunched up to 3/4ths length, or they can cover my hands.   (The Vogue sleeves are already extra-long on me; if you want the thumb-catch feature, you  may  need to lengthen the pattern piece.)
End of pattern review.  Less-relevant rant follows:
Countourwear in general is well worth a look.  If you have the budget, check out their AnyWear travel wardrobe; you'll be amazed at how much you could get into a small suitcase.  This is not your grandma's travel wardrobe!  Be prepared to suffer, though.  The website is pretty to look at, however it  has minimal information, and is a pain to navigate.  There are absolutely no detailed descriptions for any of their garments, for example.  (As if I'm going to buy ANYTHING for these prices, sight unseen, without knowing a lot more than how it looks in a single commercial photo!)
There's nowhere you can view their whole product line — you have to pick by fiber category.   What's up with that???  Just to make things worse, there's no search function (!).   Good luck finding their hoodie — or anything else.  It took me forever because, for some strange reason, I couldn't remember what it was made of.  (Why would I???)  I had to scroll through each garment, under each fiber menu, until I found it.  And no, I still don't remember what it's made of.
Previously:  Vogue 7997:  "Muslin" Version