Smith-Owen were the people who repaired my Pfaff 1229, but even if you don't have an ailing machine, Smith-Owen is well worth a long visit. The staff is incredibly nice and very helpful — one person even went through a drawer of miscellaneous parts looking for any hidden feet that might fit my 1229.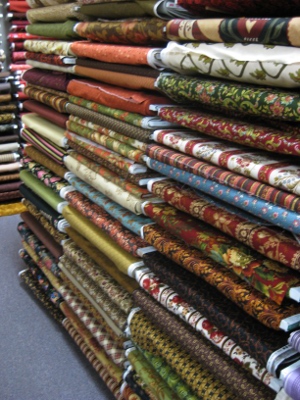 The fabric part of the store caters to quilters — without quilters would we even have any fabric stores anymore? — and is abundant with walls of beautiful cottons and inspirational projects.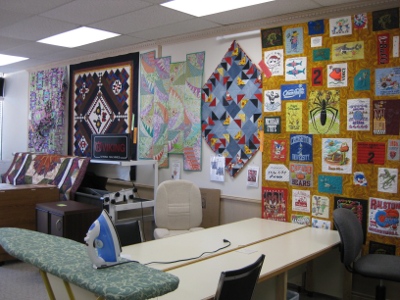 The notions walls are complete, as is the book selection — in addition to those up front, there's a huge rack in the back to peruse, too. If you're in the area, there's a large, airy classroom, and a ton of options for classes.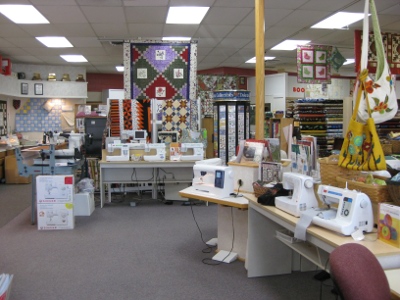 Lovers of Michigan's lighthouses will appreciate the nicely done Michigan Lighthouse Panels (suitable for a cottage quilt, pillows, totes or just about anything else). Check out the Smith-Owen website; it's much more extensive than most, with lots of swatches to view. I wouldn't hesitate to mail order from them; it's clear that they are really, really serious about very good customer service.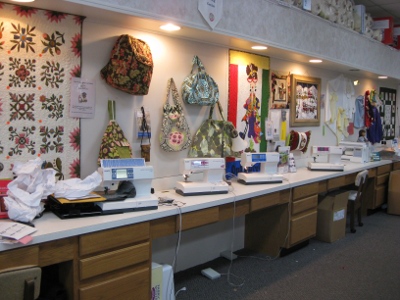 Smith-Owen sells new Pfaff, Viking/Husqvarna and Singer as well as "pre-owned" machines. The store is easy to find: It's on Plainfield Avenue just past the Plainfield limits sign (though the address is Grand Rapids). Plan to go during the week or on Saturday; like many stores in the area, Smith-Owen is closed on Sunday.
Disclaimer:  This is a personal blog, and I received no compensation for this review, which represents my opinion and my experience alone.  My visit to Smith-Owen was in 2008.  (Yeah, I know — another post that got lost!)