Burda Turtleneck & A Gripe
This fall I fell in love with a cotton/poly/spandex stretch cord I saw at JoAnn.  I wanted to make leggings from the fabric, but the wales run from selvedge to selvedge, and that just didn't seem like a good idea.  When I needed another top, though, I immediately thought of this material.  I bought it and made another turtleneck from BurdaStyle's 09/2010 issue, pattern number 121: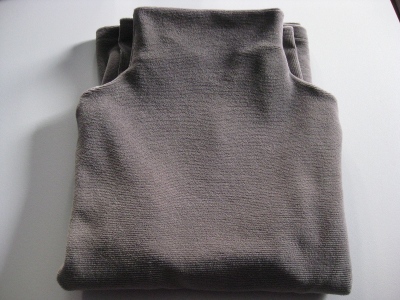 It's soft and comfortable, with a little bit of texture for interest, and made up perfectly.
However.  The clerk at JoAnn and I spent a lot of time trying to find an undamaged yard-and-a-half on the bolt.  Both ends were crushed so badly that the pile had no recovery.  At the open end, there were several random spots which were similarly damaged.  We did find enough (theoretically) undamaged fabric so that I could go home with my yardage.
Then I did the pre-wash, and look what I took out of the dryer: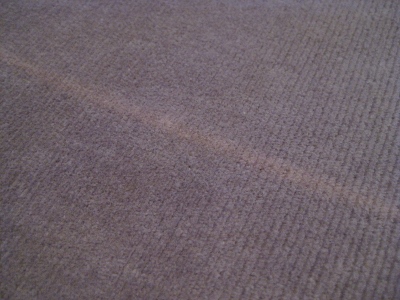 Nice, huh?  That's an exceptionally nasty fade line along the fold.
I was able to use it anyway, by cutting the sleeves on the crosswise grain; for this size, and with this amount of stretch, it didn't matter.  But I'm annoyed, once again, by JoAnn's real lack of quality control.  Sure, I could have taken it back — and I would have if I hadn't been able to make it work — but this kind of quality control really shouldn't be the consumer's job.  This fabric was full retail, not a "bargain" piece, or heavily discounted.  And this is just the sort of nasty surprise you don't want to discover, a year later, in your stash.
Also, I'm heartbroken.  My local JoAnn has several more colors, but somehow I don't think I'll be risking buying any.  But I wish I could.