Vogue 8323 – Cowl Neck Tee
I cut this shirt out last year during the week I made my Soho coat when my spouse and I were vacationing with my in-laws.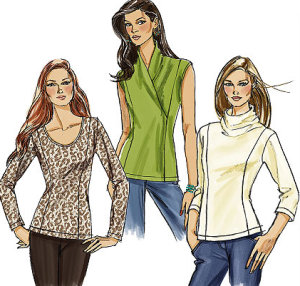 Only the front and back seams were done by the time we got home, and somehow it got set aside until now, when finishing it became important. I'd cut out View B (on the right, above), but I'll be making View C (on the left) the MIni-Wardrobe Contest, so getting this muslin finished mattered tonight. What was I thinking when I chose this fabric for this shirt? That's right, folks: Itsy, bitsy stripes and princess seams. Curvy princess seams. In days gone by, I used to pride myself on my ability to match complicated plaids (and I really was very good at it). But that was a long time ago, and, if memory serves, half the battle was choosing the right pattern in the first place. This was not the right pattern. Just to prove that I actually can match stripes, though, I offer this: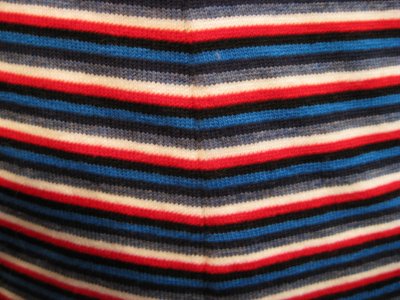 You can hardly see the seam. Needless to say, I didn't do as well on the bust curves, nor at matching the sleeves. In fact, I pretty much tossed in the towel after multiple tries. This was a muslin, after all. All of that said, I really do like the shirt. I'll wear it under a fleece, and no one will realize that my stripes are an eighth of an inch off in strategic places. (And worse on the sleeves; they're not quite as bad as they look in the photo, but they're not good.) The pattern itself couldn't be simpler, or more flattering — the shape really is wonderful, and, as is (size 12) fits my bust perfectly.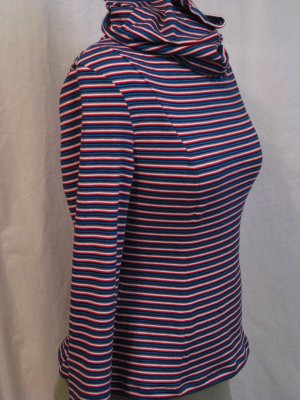 If you have the good sense not to use stripes, it should make up extremely quickly. The cowl is very, very long. In fact, it works well as a hood, and I'll wear it that way with a fleece vest once the weather gets cooler. This pattern is definitely a keeper, and I'm eager to see how it works in my turquoise cotton knit.
Update:  "Epileptic" said my poor spouse, shielding his eyes from the horror of these stripes as I modeled this shirt for him.  I see his point, sort of, but what's a little eye strain compared to the relentless boredom of one solid color after another?