PR Mini-Wardrobe Contest: Vogue 8499
First piece finished! I originally made a muslin of these Marcy Tilton pants from a linen-like fabric. This version, for this month's Pattern Review Mini-Wardrobe Contest, is made from a black cotton blend sateen fabric with just a little stretch. The "stretch" was pretty irrelevant to this particular pattern, but it adds nice wearability to the pants.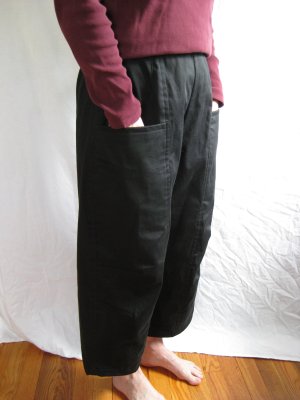 These pants are just as much fun to wear as the first pair, but they look very different. The linen version has a flowing weight, and a casual, crumpled look. The black sateen is crisper, and these pants look almost tailored, even though the legs are so over-sized. I love the effect — these are pants I never think about while I'm wearing them. They just feel like a part of me.
Many reviewers have commented the sizing on this pattern is huge. It is! Be careful when you cut — you may need as many as four sizes smaller (I did!). Once you've got the right size, though, these pants are great — the flat front keeps them trim looking, and, even though the back waist is elasticized, shaping in the rear keeps the seat from bagging or looking puffy. In real life; this photo isn't exactly proving my point, so I'm asking you to take it on faith. There's the ease you'd expect from an elastic waist, but the seat fits mine pretty closely: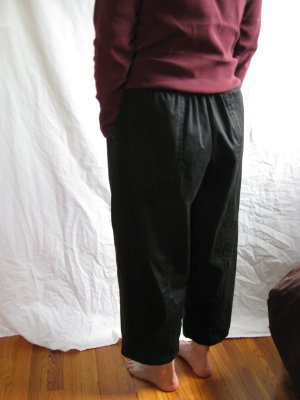 When I run elastic through a waistband, I like to make it adjustable and replaceable. Normally, I add buttonholes to each end of the elastic, but this time I sewed a bit of woven trim to each end, and will make the buttonholes in it. I'm waiting for the return of my Pfaff to do the buttonholes, but here's what the tabs look like: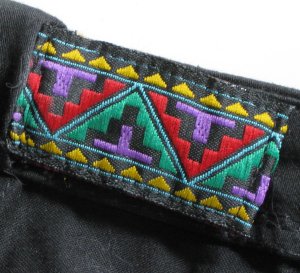 Not only does this look a little nicer, but it's also a bit more comfortable to wear.
These were sewn on a Fashion Mate 237 that I bought several years ago, but hadn't used since then. The fabric for the next item on my mini-wardrobe storyboard isn't as forgiving as this one was, though, and I'm going to have to address some issues on the Fashion Mate before I start on it. Yikes! We're already more than halfway through May!