New Look 6483 – Reversible Tank II
When I confronted my spouse wearing the muslin version of this tank, he took one look and said "You're puffy!" I detected no admiration in his tone, so I'm taking some comfort from knowing that this version is "puffy" on only one side. The other side is an interesting, somewhat textured, somewhat variegated green. It's conservative, and flat. I'm expecting a slightly more positive response to this one.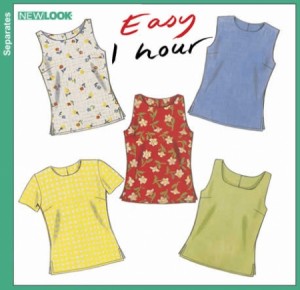 Last night I dragged myself out of bed after 40 hours of vertigo-induced nausea and managed to put it together. Things didn't start out well — my first move was to sew the two fronts together at the shoulders, but once I'd straightened that out my brain picked up speed and things went well.
Pictures tomorrow — that way I can take them in natural light. Print side: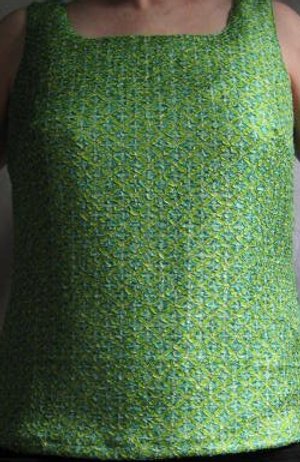 And of the solid side: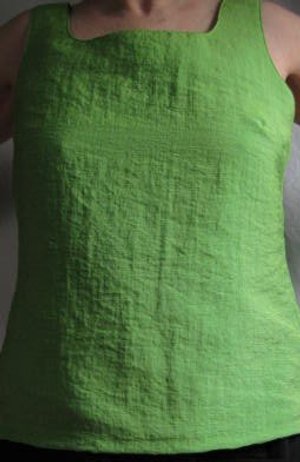 OK, seriously bad pictures here — and what's with the solid top?  Wrong undergarment, I think.  And I took the print picture before I'd pressed the hem.  But you get the idea.  (It's less than two hours to the end of the Mini-Wardrobe Contest, so I won't be taking new pictures tonight.
As with the muslin, I made a few changes to the pattern: first, making it reversible; second, removing the side vents; third, eliminating the button at the top of the neck. I also dropped the darts to accommodate my bust. This is a "1 hour easy" pattern; it took two hours (after cutting it out, which I did two days ago) including serging all the seams and making the two tanks so it reversed.
The "puffy" side is a heat-treated poly print; the solid side (which looks vaguely bamboo-ish) is a poly/rayon, if I remember correctly.
This is the third of four pieces for the PR Mini-Wardrobe Contest, which terminates tomorrow night. Tomorrow I'm making the fourth piece — Marcy Tilton's skirt from Vogue 8499. Wish me luck!