New Look 6317 Mock Turtleneck
This New Look pattern has been discontinued, but it's still available on eBay, Etsy, and maybe elsewhere. I made the fitted mock turtle, which I turned into a real turtleneck.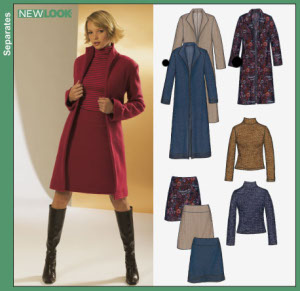 For the trial run, I used a one-dollar-a-yard grey polyester knit with a very soft hand. I didn't change the collar for this one, but did add three inches to the torso length. I like the basic fit very much. There's subtle shaping around the bust is very nice. The shirt is close-fitting, with a well-defined waist.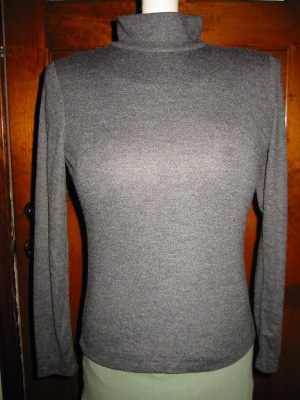 The second version was in a dark fuschia cotton/lycra knit. I didn't like the size of the original mock turtle collar, so I added 5 inches to the height. I probably could have used a size smaller across the shoulders, as the pattern seems a little wide there, thought not, I notice, on my dummy. Actually, I like the look and fit, so I wasn't tempted to change it — though be forewarned, this shirt fits closely, and I made it in a size larger than I normally would have used.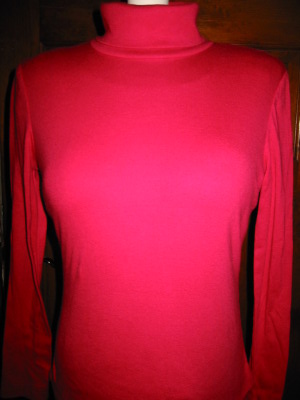 For the microfleece version, I cheated a bit and reduced the seam allowance to 1/2 inch for a little more ease, as the fleece isn't as stretchy as the knits. It worked fine, and I love the coziness of the fleece, as well as the trim fit. These shirts are a snap to make up; I suspect I'll make a lot of these in various fabrics in the future.
This is the back view of the microfleece version. Simple and sleek!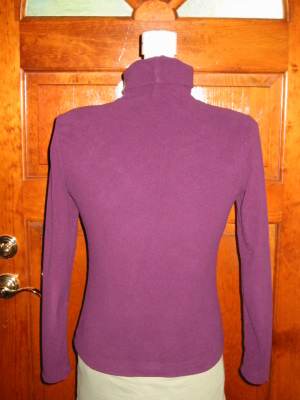 I shortened the sleeves by my usual inch, which still left them long the way I like them, and added three inches to the torso length, because I'm not really crazy about the very contemporary look of the short-short tops.
It's a real pleasure to have trim, fitted turtles.