Chiffon Wrap
This wrap couldn't be easier to make:  one rectangle, two seams! Here's the front: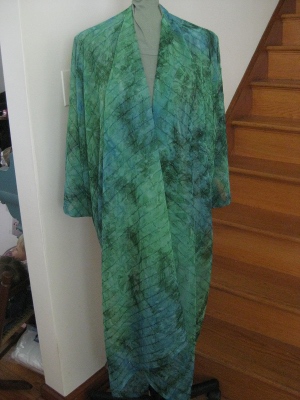 The pattern is by Rhonda Buss, of Rhonda's Creative Life, who made it part of her weekly free pattern posts.  My version isn't very exciting, featured as it is here, on my duct tape dummy, but it's wonderful to wear.
Back view: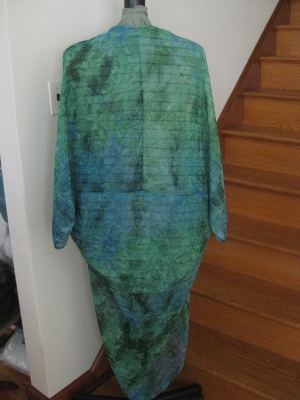 Because I never wear anything remotely formal, a wrap like this has a lot of appeal.  Slip it on over a black top and slim pants, and, voilà, I can almost look dressed-up.  Also, it packs up into nothing at all; if I had to look somewhat elegant, this could be a good fake.  Or it could be one fantastic beach wrap!  Here's a sneak preview of Rhonda, modeling it quite romantically: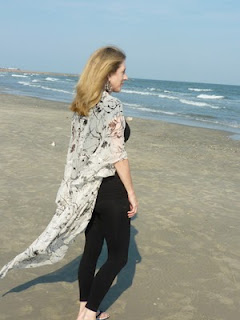 to get the full effect, you'll need to check out Rhonda's post where you can see it in its wondrous, flowing, glory at the beach!
I used my rolled hem foot to finish all the edges.  It did a beautiful job, and was a quick and easy way to knock off the project.
Rhonda's instructions are here.  If you don't know her blog, do take a look around.  Rhonda consistently posts clever and imaginative ways to think about, and manipulate, fabric — her Fabulous Free Pattern Fridays are incredibly inspirational, but so is the rest of her blog.  Go visit — you won't be sorry!